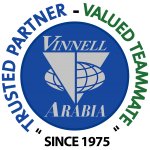 Vinnell Arabia
Vinnell Arabia
Mc Lean

,

Virginia

,

United States
Mc Lean

,

Virginia

,

United States
Company Information
Opportunities Await in Your Post-Military Career
Vinnell Arabia is a military knowledge transfer company, which delivers a full range of products and services for air and land forces, as well as customized doctrine-based ground and aviation training, full-scope maintenance, logistics support services and military translation solutions. We have a respected history in supporting the Ministry of National Guard and the US Army Office of the Program Manager, Saudi Arabian National Guard (OPM-SANG)-a relationship that spans over 42 years. We have been the leader in providing US military subject matter expert labor, customized doctrine-based ground and aviation training, and full-scope maintenance and logistics support services in the Kingdom of Saudi Arabia. Vinnell Arabia, LLC is a Saudi Arabian registered, single shareholder limited liability corporation, as a wholly-owned subsidiary of the Northrop Grumman Corporation.
WHY WE VALUE VETERANS
Vinnell Arabia's services are custom tailored to meet our specific customer needs. We have successfully integrated, fielded, trained and supported U.S. and internationally manufactured systems. Our expertise in designing, developing and executing training systems is only achieved by highly qualified former U.S. military and other U.S. government agency personnel, such as you, using time-tested and proven procedures.
Are you a Veteran Owned Business?:
No, we're not a Veteran Owned Business
No job openings
---