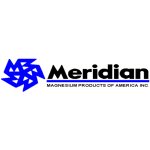 Magnesium Products of America
Magnesium Products of America
Eaton Rapids

,

Michigan

,

United States
Eaton Rapids

,

Michigan

,

United States
Company Information
We Are Driven to Lead
Our vision is simple.
We see ourselves as being the world's leading supplier of innovative lightweight cast metal solutions for the transportation industry. Nothing will distract us from that mission, and every action we take is focused on achieving and maintaining that leadership position in the world.

We are the lightweight heavyweight.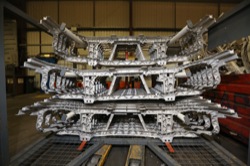 Meridian is the leading full service supplier of innovative magnesium die cast components and assemblies in the global automotive market.
World's largest producer of magnesium components
Die casting magnesium since 1981
1600 dedicated employees
58 total die cast machines from 420 to 4400 tons
22 die cast machines over 2500 tons
Over 450,000 ft² of manufacturing space
Over 40,000 net metric tons of product shipped annually
Many secondary machining, coating, and assembly capabilities that add value to our client partnerships
Global Manufacturing and Customer Service Footprint
Our strategic global presence enables us to service the international needs of our automotive clients quickly and efficiently.
4 North American manufacturing sites
1 European Manufacturing Site
1 Asian manufacturing site
3 International sales offices
Wonderful Benefits, Great Pay, Amazing People, Sign On Bonuses
Company History
Years and dates don't tell the whole story
By any measure, our growth to a position of global leadership in magnesium die casting has been swift and impressive. The chronology of our development is marked by many milestones and benchmarks, each of which signals yet another step in our march to achieving world-class status.

But the core of our success over the years isn't really reflected in the passage of time. The real engine that drives our growth and defines our history is our culture. From the very beginning, our company has celebrated ingenuity, innovation and creativity above all else. We believe that when you create an environment in which people are able to achieve their full potential, the history will take care of itself.

1981
Began operations in Strathroy Ontario as a division of CAE Webster

1988
Purchased by Cygnus Industries to create Magnesium Products Industries

1989
Purchased by Meridian Technologies

1994
Launched first magnesium IP in North America at GM

1994
Began operations at the new Eaton Rapids, Michigan facility known as Magnesium Products of America (MPA)

1996
Launched first magnesium Front End Structure at Ford for the F150

1998
Meridian Technologies Inc. privatized with two owners; Teksid S.p.A and Norsk Hydro

2000
Opened new Global Technology Centre in Strathroy, Ontario

2001
Began operations at the new Strathroy, Ontario facility on Wright Street

2003
Signed Joint Venture with SCAAC, a subsidiary of Shanghai Automotive Industry Corp. (SAIC) for manufacturing facility in Shanghai, PRC

2003
Began operations at the new Nottinghamshire, UK facility known as Meridian Technologies United Kingdom (MTUK)

2003
Launched the world's largest magnesium, structural body component (Front of Dash) at Chrysler for the Viper

2005
Received 2004 DaimlerChrysler Gold Award

2005
Begin operations in new Shanghai, PRC facility

2006
Launched industry's first magnesium engine cradle at GM for the Corvette

2007
Meridian Technologies purchased by Estatia A.G.

2008
Global restructuring of the business resulting in transfer of all operating assets to a new parent company, MLTH Holdings Inc. and its worldwide operating subsidiaries.

2009
Began operations at new facility in Ramos, Mexico

2009
Received Ford Global Body Excellence Award

2009
Launched first magnesium structural closure casting in North America at Ford for the Lincoln MKT.

2010
Received Automotive News Pace Award and Collaboration Award with Ford.

2012
Began operations in new state of the art secondary machining facility in UK.

2012
Established Southfield, Michigan U.S.A. office location in proximity to many major customers.

2013
Meridian and all of its subsidiaries acquired by Wanfeng Auto Holdings Group Co. Ltd. (December 19, 2013)
Are you a Veteran Owned Business?:
No, we're not a Veteran Owned Business
No job openings
---